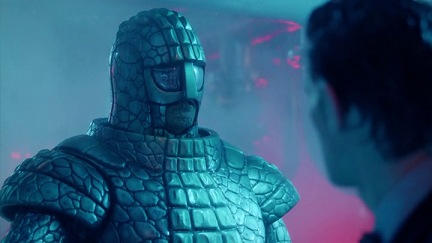 I've long been a fan of Mark Gatiss. From his terrific novel
Nightshade
, to his excellent performance in the only good BBC3 programme ever made,
Nighty Night
, the guy's dark sense of humour and fondness for nostalgia has bought me many moments of joy over the years. It is a shame then, that he hasn't had the best track record when it comes to writing for the revived Doctor Who series. His work has been mediocre and forgettable at best (
The Unquiet Dead, Night Terrors
), and almost unwatchable at worst (
Victory of the Daleks
), so it is with great pleasure that I can declare Cold War my favourite Series 7 episode so far.
We start with a Russian submarine acting all sinister and Russian. As somebody who has had a lifelong obsession with the Cold War, this tickles my history boner in the right places. A fascinating period of historic tension, that the episode makes solid use of, unlike the utterly perfunctory World War II setting of
Victory of the Daleks
. Still, it isn't entirely historically accurate by any means, the submarine's corridors are way too fucking big compared to the beyond cramped conditions of a true USSR submarine. Still, artistic licence is to be expected and it's a more exciting setting than modern day London so I allow it. We are shown that the Russians have captured what they believe to be a frozen mammoth. However, one of the crew is uh... RIDICULOUSLY excited to be able to touch it. Seriously, what is WITH this guy? He declares that he's unable to wait until they get to Moscow, and that he's cracking open the mammoth right now. It's a kinda awkward excuse for the Ice Warrior to be freed from his ice prison and just raises questions as to why the hell this guy is so creepily desperate.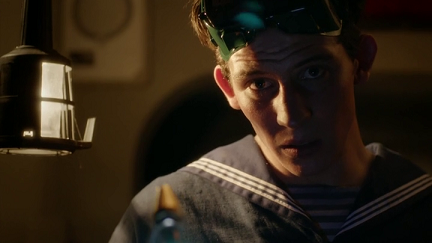 Above: Mammoth fucker.
Commanding the submarine is Davos Seaworth from TV's
Game of Thrones.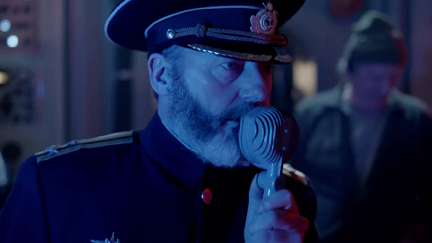 The presence of somebody from that programme briefly startles my sense of storytelling expectation and perspective. I jokingly turn to my friend and say that I now expect completely unnecessary and distracting female objectification to follow him across shows.
Moments later, a soaking wet Jenna Louise Coleman arrives from thin air.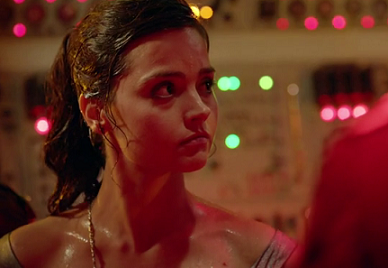 The episode has now earned a great deal of good will from me in an incredibly short space of time. Not least due to the presence of one of my favourite actors, David Warner, who also once played The Doctor in the Doctor Who Unbound audios. Further niceness comes from the reveal that the Ice Warrior's design hasn't been tinkered with for the worst like the revived show has done with the Cybermen, Sontarans and Silurians. The Ice Warrior design is a classic and the new design is suitably faithful and intimidating. In fact, the revived show hasn't bought back a classic enemy this well since 2005's
Dalek,
with most attempts severely lacking in both writing and design elements. Here, we are given both the sinister villain of the initial Troughton Ice Warrior stories (To which this story is certainly superior!), as well as hints of the more decent side to them found in
Curse of Peladon
, which I admit remains my favourite Ice Warriors story.
The Doctor's first encounter with the Ice Warrior is suitably dramatic but then some knobend goes a bit taser-happy and suddenly an intergalactic incident could be on the cards. The situation must be diffused before everybody in the submarine is slaughtered, before nuclear annihilation occurs...
Above: ...and before Clara gets dryer.
Matters aren't helped by the fact that our frozen friend appears to be missing...
Not above: An Ice Warrior.
At this point I got worried. I'd heard a rumour from generally reliable nerd sources that the Ice Warriors in this episode would be revealed to be comedic midget aliens inside suits. This sounded a bit well.... Russell T. Davies to me, so I started to worry that I was about to hate on an episode I'd been loving up until this point. My fears proved to be unfounded though, as I was soon made aware that an Ice Warrior without its suit is incredibly dangerous and the episode proceeds to become a tense horror thriller that brings to mind both
Alien
and the Patrick Troughton era, particularly the base-under-siege stories that characterised Season 5 of the classic Doctor Who series. There had been a piss-irritating tendency in most New Who stories to not take the threat level at all seriously so this episode was of HUGE relief, managing to build a solid atmosphere of dread and danger in a way very, very few episodes have since 2005. When we finally do see the Ice Warrior unmasked the CGI is somewhat of a disappointment, but the design itself is true to the original and suitably menacing.
Above: Not shit.
Matt Smith continues to prove himself as the best Doctor since Sylvester McCoy, and Clara is given the most character development she has had since appearing, in a much less on-the-nose and more subtle way than last week. Her reactions to the slaughter and danger help us get to know the character in a way we haven't in the whizz-bang of the 2 previous episodes. Series 7 has been very epic, loud and blockbustery so it was nice to have a more confined, claustrophobic episode to give us a much, much needed change of pace. While I do feel the previous episode was underrated by fandom and a lot more ambitious in scope, concept and ideas than this, Cold War was significantly better in its execution and ultimately that's what counts. I can't stress how refreshing it was to have an episode which took Doctor Who seriously again. More please.
Rating: 9/10